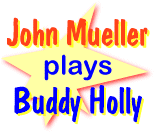 Buddy . . . The Buddy Holly Story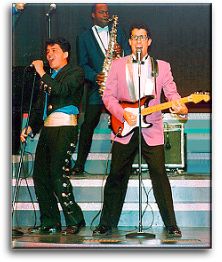 For more than four years John has starrred in the world famous production of Buddy . . .The Buddy Holly Story, headlining the show throughout North America. Buddy celebrates the life of Buddy Holly, a young musician with country roots who changed the face of rock and roll forever.
---
Buddy . . . Not Fade Away
John's newest show, Buddy Holly . . . Not Fade Away authentically depicts Buddy's life and meteoric rise to fame thru slide projection, narration and of course rock and roll. This live concert event covers Buddy's country roots, his interest in Elvis, his first recording contract,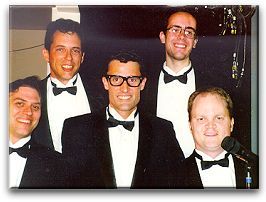 appearances on the Ed Sullivan show and many other historic occurences. 30 songs are performed live and the show culminates with Buddy's final performance on February 2nd, 1959 at the Surf Ballroom in Clear Lake, Iowa. Click here to find out where to see Buddy . . . Not Fade Away. Decked out in tuxes, John and band members celebrate opening night in Wichita, Kansas.
Be Bop A Lula
In this 1993 production by Adam Ant, John starred as the devil reincarnated in the body of Buddy Holly! Produced in Los Angeles, Be Bop A Lula was John's debut as Buddy on the stage.